by Janine
Dr. Seuss' birthday is March 2nd!
Visit your local library and take inspiration from the many books written by Dr. Seuss.  We are sure you can come up with some creative and fun ideas of your own to help your class celebrate.  This is also a great time of year to invite parents into your program to read their favorite Dr. Seuss book to the class.
Here are some fun activities to get you started!
Fox in Socks
1.  Cut out a sock shape and have the children decorate the sock any way they like to decorate your room.
2.  Create a sock matching game for the children to play.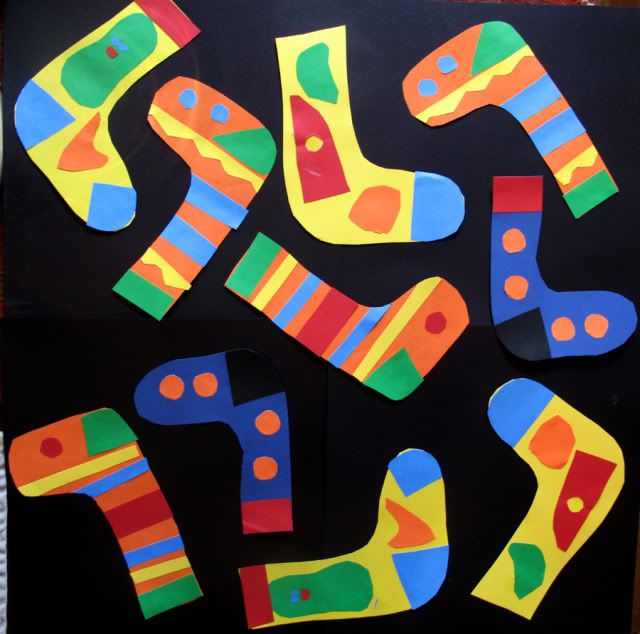 One Fish, Two Fish, Red Fish, Blue Fish
1.  After reading the book, have the children graph a handful of goldfish crackers.
2.  Use the children's handprints to make a red fish and a blue fish in a fish bowl.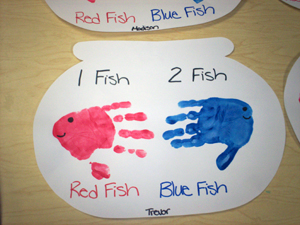 3.  Create a tasty "fish" snack with blue jello and gummy fish.
The Lorax
1.  Have the children make Truffala Trees out of play dough, pipe cleaners and pom poms.
2.  Create a colorful noodle snack by adding food coloring to boiling noodles.
Bartholomew & the Oobleck
1.  Create your own Oobleck for the children to play with!
Mix approximately 2 parts cornstarch with 1 part water and add a few drops of food coloring (For example 1 cup of corn starch and ½ cup of water). We actually mixed the food coloring into the water and then poured it into the bowl with the cornstarch and that worked well. Mix with your hands (of course)! I would suggest adding the water a little at a time until you get the consistency you want, but if it does get runnier than you like, just add a little more cornstarch.
2.  Make an Oobleck snack out of vanilla pudding with green food coloring!
Green Eggs and Ham
1.  Create a rhyming game using green plastic eggs.  Have the children match up the rhymes to create the eggs.
2.  Make Green Eggs and Ham for a snack.  All it takes is pretzel sticks, a touch of white frosting or melted white chocolate and green M&Ms
.
Check out http://www.seussville.com/Educators/educatorClassroomResources.php?id=printables for additional ideas for educators.
Here is a link to some additional ideas as well http://www.childcarelounge.com/general-themes/dr-suess.php.
by