by Janine
Celebrate the color pink in your classroom!  Here are a few ideas to get you started.  And remember, pink doesn't have to be just for girls!
Finger Paint with red and white paints so the children can experiment and make different shades of pink in their picture.
Create a pink scavenger hunt.  Have the children search for things that are pink throughout your classroom.
Serve a pink-themed snack.  Some ideas are pink lemonade, raspberry sherbet, strawberry ice cream, or even have the children mix their own cup of pink pudding (vanilla pudding with a few drops of red food coloring).
Plant a garden using a variety of pink flowers.
Have a dance party and add pink scarves and balloons for extra fun.
Add pink rice to your sensory table.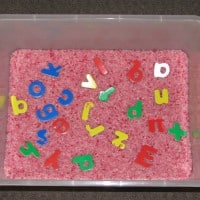 Read Pinkalicious, by Victoria and Elizabeth Kahn
Have fun and think pink!  We'd also love to hear how you can incorporate pink into your classroom on June 23rd!
by