by Kay Mishkin
No matter where you live, you can look around you and see birds.  Sometimes we don't pay any attention, and those feathered friends may seem invisible,  but if you are quiet and attentive, you will notice them, going about their business in a purposeful and interesting way.
By calling your day care children's attention to birds, you add a new dimension to your nature studies.  Many benefits result, including:
New vocabulary:  feather, beak, fly, glide, perch, build nest, hop, peck, plus many opportunities to use conversation about what the birds are doing and why.
Appreciation of difference:  so many different kinds of birds.  Name the birds as best you can, from robin to seagull to duck to wren to pigeon.   Listen to the different noises they make!  It is a good exercise in stillness to stay quiet and hear the sounds of the birds, best early in the morning and late in the afternoon.
Helping activities:  Children can help the birds by sharing in providing a bird feeder, especially in the winter.  In the spring they can put out string, yarn and other items for nest building.  If they spot baby birds, children can observe the adult birds finding food and feeding their young.  You can discuss with them ways to help a baby bird if they find one.
Expanding imagination:  Children may want to pretend to be birds, create nests and fly, talk about what it might be like living high in the trees or looking down on us.
Visual arts:  It would be fun to paint with feathers (you can buy them at a craft store) or use materials to draw, make collages of bird pictures cut from magazines.  Stamping would be fun, with images of bird feet, which you could stamp in various patterns… be creative!
Books and Music:  Look in your local library for stories featuring birds.  Look through your music collection.  I'm sure you will find songs with birds. One that comes to my mind is:  "When the red, red robin comes bob, bob, bobbin'…"
Noodle Nests

– A recipe "for the birds!"
1 tub (16 oz) of your favorite ready-to spread frosting. (or your homemade)
4 cups cooked chow mein noodles
small jelly beans or green grapes
Cover a cookie sheet with wax paper
Heat the frosting, stirring constantly, until it is liquid.  Remove from heat.
Stir in the 4 cups of chow mein noodles and stir until they are all coated.  Drop the mixture by ¼ cup about 1 inch apart on the cookie sheet.
Make a hollow in each using the back of the spoon.  Let stand until firm.
Use jelly beans or perhaps green grapes to be eggs in the nests.  Makes approx 16 nests.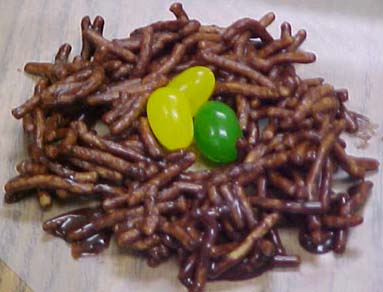 Once I Saw a Little Bird
by Mother Goose
by